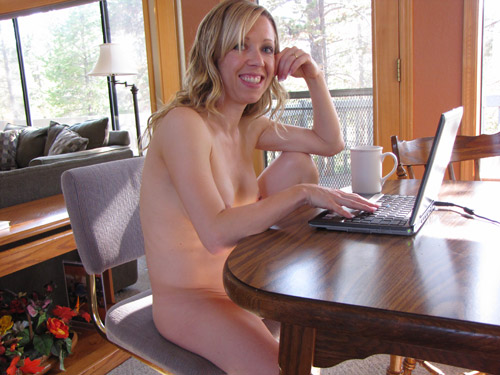 Name: Mandy Monroe
Stats: 34C – 27 – 34
Height: 5'0"
Eyes: Blue
Hair: Blonde
Favorite Color: Pussy Pink
Body Type: I work very hard to keep myself fuckable. I am VERY athletic. I work out daily and eat a very healthy diet to keep my body in top sex form. I am tan, tight, toned and strong. I am petite so I can move around easily to pleasure you and you can move me easily too. I can even sit on your lap and fuck you while you drive (oh ya, that's illegal).

Mandy's turn ons: The looks I get from men and women when I wear something naughty or see-thru in public; when my pussy is wet and dripping in the middle of the day for no reason at all; men's bodies but most specifically their well built arms and thighs; and of course a nice hard cock to play with!
Mandy's Fantasies: Seeing an attractive guy (or girl) and fucking them in the nearest convenient place-spontaneously!
ABOUT ME
I am everything you want: petite, sexy, and ready. Sex is the center of me, I love to have sex in any position, but put me on top and watch me go! I enjoy NOT wearing a bra or panties. It keeps my mind constantly on sex and keeps my pussy very wet. A dress or skirt is my favorite thing to wear. I like to be ready and easily accessible because you just never know.
Hi! I'm Mandy and I would like to welcome you to my pleasure website and tell you a little bit about myself. When I got married, my husband and I were both virgins. Of course we spent a lot of time learning how to pleasure each other. I didn't tell my hubby this in the beginning, but after we were together the first time, I instantly knew that I wanted to fuck other men. Not because he wasn't amazingly hot, but because sex was sooo so good that I wanted to try it out with others and a lot. Fast forward a few years and my wish would come true. My wonderful hubby comes to me and asks if he can talk to me about our sex life. We proceed to have a discussion about how he wants me to fuck other men!!! (I already knew he had an extremely voyeuristic side and he loved to watch me have pleasure.) Of course I "acted" taken aback, but with a wicked grin on my face, told him I would think about it.
That little sex talk has led us to where we are today. We started with me fucking other men and progressed to hot sex fun with couples, me finding my bi-side with women, having hot orgies, finding out I can squirt, and really there is no limit to the wicked fun that I could have and want. With all this sex fun, I discovered that I really like the feeling when a man's cocks throbs and fills my pussy full with their hot juicy cum (YES "Creampies"). I also found that I love COCK with all its variations (including black cock!) and crave to suck them until they either can't hold back and spurt their yummy seed down my throat (yes I swallow) or spurt it all over my breasts, tummy, wherever. Of course hubby's voyeuristic side means that we do all the pictures and video ourselves from our home, outside, hotel, or wherever it spontaneously happens!

My Hubby and I started watching porn together before we ever ventured into playing with others. The videos and pictures of hot women getting fucked, creampied, semen spurting in their mouths and on breasts, and two women enjoying each other's hot supple bodies was such an injection of spiciness to our sex life that we couldn't get enough. Our favorite porn movies and pictures have always been those that are realistic, that portray what really happens during sex. We love actual cum shooting inside pussy, mouth, ass, etc. Now my adventures have led us to create this website. This is a REALITY site, what you see inside is me craving and getting wild hot sex everywhere I go. I have so much hot fun exploring sex that I wanted to share and broaden my horizons as to meeting more men and women that I can fuck and suck to ultimate pleasure.
If you would like to meet me please check out my "Meet Me" page for more info.